AviManage is aviary management software for Microsoft Windows
A flexible inventory system for serious bird keepers that can monitor breeding performance, track genealogy, and store vast amounts of information about your birds and aviaries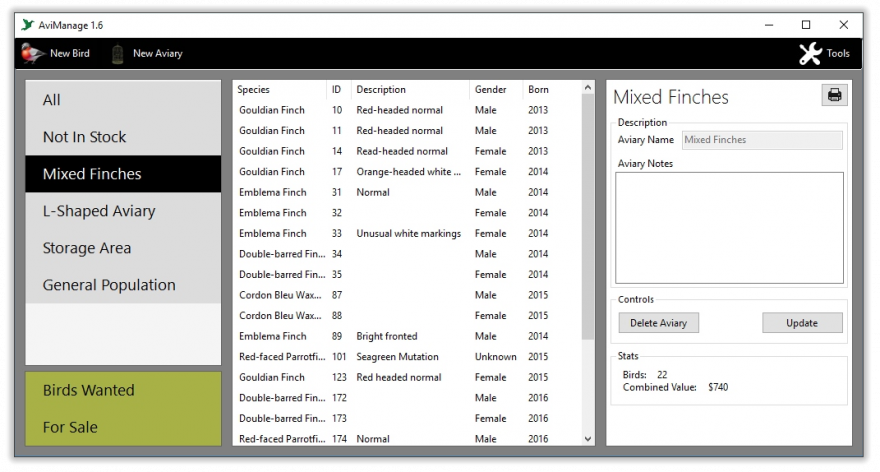 Frequently Asked Questions
What are the system requirements?
AviManage works on all versions of Microsoft Windows from Windows XP through to Windows 11. The Microsoft .NET Framework must be installed.
How do I update AviManage?
We periodically release updates to AviManage. If you've purchased AviManage within the last year, you'll be able to download new editions for free. Instructions for upgrading can be found
here
.
I can't download AviManage.
Sometimes Windows will block the installation of software that it doesn't recognize. Please contact support and we'll walk you through installing AviManage.

Where can I download AviManage?
You will receive the download link via email after completing your purchase. The link will allow you to download AviManage for 1 year. After this time, you will need to purchase a new copy of AviManage. If you lose your download link during your subscription, contact us and we can issue a new one.
What's the difference between the free trial and the full version?
The free trial will only allow you to manage records for 25 birds. You can easily upgrade from the trial to the full versions without losing any of your data.

How can I be notified of new versions?
Updates are announced through the Aviculture Hub newsletter.

Track Genealogy
Avoid inbreeding by being able to instantly see the offspring, parents, grandparents, siblings, nephews and nieces, cousins and half-siblings of any bird.

Monitor Breeding Performance
Track laying, hatching and fledging of young to identify strong performers and strengthen your bloodlines.
Support
Have questions? We'll be happy to assist you! Purchasing AviManage entitles you to one year of free assistance. After one year you will need to renew your subscription to continue receiving support.