In this interview, we look at the finch collection and aviaries of Sam Davis; who is the president of the Finch Society of Australia and vice-president of the Canary and Cage Bird Federation of Australia.
This article was originally published in the Aussie Finch Forum May 2014 newsletter and has been reproduced on Aviculture Hub with permission.
How did you become interested in birds? Family, friends, or self starter?
Self-starter really. I was about 10 years old. Family BBQ at a friend's place who had a small budgie aviary, which I thought was awesome. Went home, hassled Mum and Dad, then used old timber lying around to cobble together an aviary. This then grew into a bank of aviaries, breeding, showing budgies
and then onto finches.

A few years without finches, some with parrots (Eckies mainly) then a period of breeding heaps of Gouldians and more recently a mixed collection of finches and just getting back into aviculture – I'm currently secretary of Woolongong Finch Club and President of the Finch Society of Australia. It took me a while to join finch clubs (due to work) but I encourage all to do so. The contacts and information you get really help
What's your favourite thing about keeping birds?
Breeding a new species for the first time is the best although lately I just like sitting and observing their differing behaviours. This is particularly so with softbills, which I've only recently got serious about.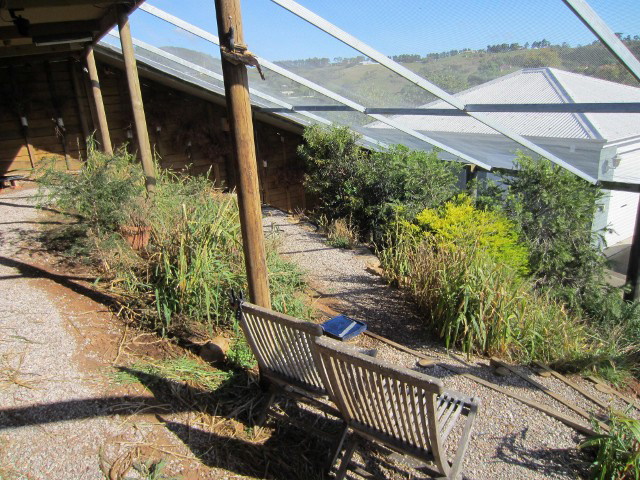 What's the one special thing you do for your birds?
Not sure how to answer….I don't sell birds to people I don't trust will care for them.
Your favourite Australian finch and why? Favourite foreign finch and why?
I don't have specific favourites. Aussies – I do like Diamonds, Plumheads and Maskeds. Foreign – Orange Breasts and Pytilias But there's heaps of others I
like too and I may have chosen differently if you asked me tomorrow.
Describe an interesting or lovely bird moment, either from your own aviaries , someone else's, or out in nature.
I removed all Gouldians from a mixed aviary, then about five weeks later a pair of Strawberries fledged a Gouldian. Why the Gouldian hen would have
entered the Strawberry nest is beyond me.
How much time do you get to just sit and watch your birds?
My wife might say "too much time". I often have my morning coffee sitting in my recently built large aviary. Probably averages an hour or so every day.
What the biggest problem in your area regarding keeping your birds?
It has been very dry in recent months and I'd say this is why many in my area are reporting poor breeding results. But a few years ago we had the mouse plague where the darn things were just everywhere so that was definitely worse.
If you had $200 to spend right now on your birds, or on more birds, what would you buy?
I'm keen on progressing the importation of captive birds into Aus. – some of the South American Manakins and Tanagers would be awesome. Clearly $200 wont do it, and even $2000, $200,000 or more would be unlikely to change things. It's a long term plan but we've got to start somewhere.
Massive – 20m by 20m or larger. Half covered, tropical, fully planted – different environmental zones. Would love some South American species such as Manakins and Tanagers. I'm totally over the morning chore of feeding and cleaning cabinets and small aviaries – takes a similar amount of time to feed one big aviary as one small aviary.