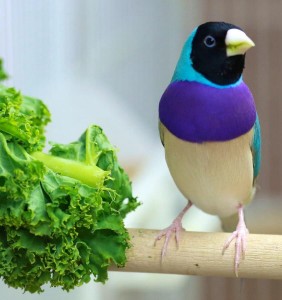 The blue Gouldian finch is one of the most prized and attractive colour mutations in aviculture. The mutation first appeared in the 1940s, but it wasn't until the seventies that anyone had success producing them in good numbers.
Genetics
The blue Gouldian finch mutation is an autosomal recessive trait. From Finch Information Center's Definitions of Terms:
Autosomal – "Of or relating to any chromosome other than the sex chromosomes," a characteristic inherited on any gene pair other than the sex chromosomes."
Recessive – "A genetic character or factor that will only be phenotypically expressed when present on both loci of a homologous pair (homozygous or double factor)."
In order to display the blue colouration, a finch must posses two copies of the blue gene. A bird possessing a single copy cannot express the blue color, but still has the potential to produce blue offspring if its partner can provide a second copy of the blue gene. These finches are referred to as splits and cannot be visually distinguished from a bird that does not carry the blue gene.
Breeding Blue Gouldian Finch
The blue Gouldian mutation was established through poor breeding practices, in highly controlled environments; using medication and inbreeding to quickly produce large numbers. Although significant work has been put into establishing strong, healthy lines of blue Gouldians, these birds are still quite weak compared to normal Gouldians.
Most breeders recommend pairing a blue bird with a "split to blue" bird to produce blue young. Two visibly blue birds should not be paired to avoid further weakening the blue Gouldian gene pool. A blue bird can be paired with a normal bird (not carrying the blue gene) to produce "split to blue" birds to strengthen your bloodlines and provide potential partners for visibly blue birds.
Care Requirements
As mentioned previously, Blue Gouldians are genetically weaker than normal Gouldians; so special care needs to be taken when housing them. An environment with a lot of space, plenty of shelter, excellent food and water and very few stress sources (don't overcrowd them!) is ideal. A strict worm and disease control regime is also critically important.