Aviculture Hub's product subscriptions make it easier to keep your bird supplies stocked up. Once your subscription is active, we'll keep sending a product either every month or every three months and charge it to the payment method we have on file.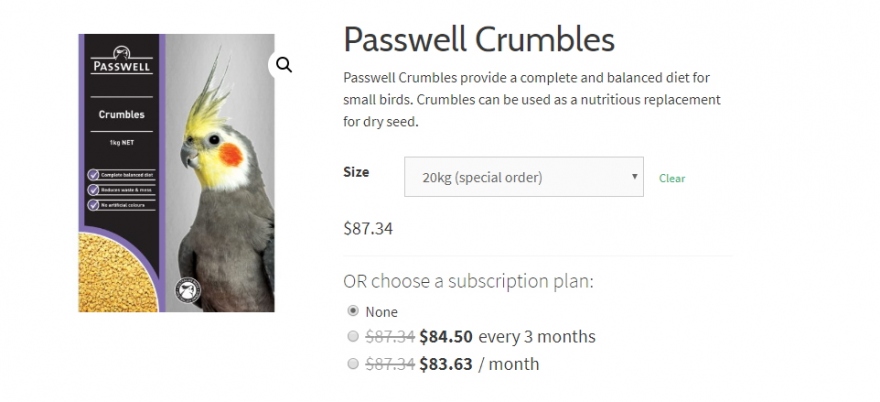 Will the price of my subscription change?
A product's subscription price is calculated by taking the current list price and reducing it by between 3-10%. Your subscription price will be fixed at that price indefinitely.
If we need to increase the price of a subscription due to a supplier price change, we will contact you beforehand to give you the option of cancelling.
If you create a subscription on a sale item, the price will revert to the regular price when the product is no longer on sale. If the product is on sale when the subscription is processed, you will be charged the lowest price.
We will always contact you before a subscription payment is taken to ensure you are happy with the current price.
How is my payment information stored?
The payment information you provide to us is saved by Stripe (our credit card processor) or PayPal. Aviculture Hub does not store your full card number and your debit or credit card details cannot be accessed by Aviculture Hub.
Can I cancel my subscription?
You may cancel at any time after the first recurring payment. You can manage your subscriptions from the My Account page, or by emailing us.
Why did my subscription fail?
This usually happens because the credit card on file has expired. This can be updated on the Payment Methods section of your account settings. Occasionally a subscription cannot be processed because the product in question has gone out of stock, however we usually contact you beforehand if this seems to be the case.